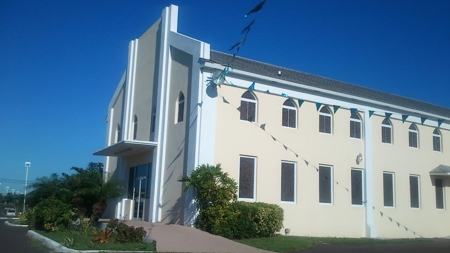 L

iving Faith Church is a lovely church where the members are friendly and warm. The seating capacity is about 400. It is fully air conditioned and has a baptistery.
The Living Faith Church was formed on April 23, 1988, under the Big Tent on Wulff Road on the property opposite Three Queen Restaurant (at the time). Today the site is being used as an Auto Mall. The church was the result of a six weeks evangelistic meeting conducted by Pastor Hugh Roach who also became the first pastor of the church. Shortly after the church was organized it moved to Bahamas Academy Gym on Wulff Road with 275 members where it remained for over eight years. The active membership as of November 1, 2012 is 780.
THE PROPERTY
In 1991 the Government of The Bahamas offered to the Bahamas Conference two acres of property on Old Trail Road for the erection of a church and Early Learning Center. The Conference apportioned the front part of the property to the church. The entire property was leased for $1,100 a year with a lease to purchase agreement. In 2008 the Living Faith and along with the Bahamas Conference requested to purchase the property and it was granted for the the price of $19,800. The Living Faith Church paid 11,800 to the Conference to assist in purchasing the property. The conference paid the balance of the cost.
Pastors who have served Living Faith are: Hugh Roach, Jeremiah Duncombe, Basil Sturrup, Paul Scavella, Barrington Brennen, and currently Mark Ewen (Since January 2013). See photos below.